COMPANY PROFILE
---
"Poursalidis Ath. & Sons S.A" with discreet title "Siropiasta Sakis", were founded in 1981 with objective of making general pastry products with a distinct inclination towards traditional Greek sweets, known as "Siropiasta" (Syrup based sweets).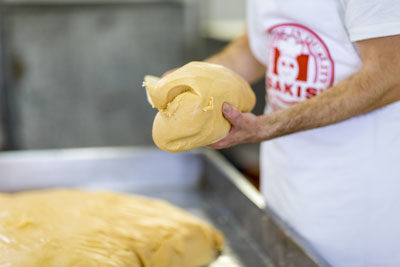 Our guide in our business activities in the last 30 years has been the fulfillment of any modern desire filtered by our respect to the tradition. The constant renewal of our products' variety in designs and flavors puts us at the first place in order of creativeness.
The strict control of the raw materials we use and our commitment, so that our products come always fresh to the stores, allows us to keep our quality constant all these years now.
Our products are distributed with the company's privately owned vehicles but also with associate transportation agencies throughout Greece, supplying its customers with the same effectiveness whatever place of the country they may be at.
Moreover, the company exports and promotes products to European and Balkan countries, like Germany, United Kingdom, Spain, The Netherlands, Switzerland, Italy, Albania, Bulgaria, as also to U.S.A.
EXCELLENT QUALITY
---
Our philosophy is to offer quality products, which are produced under excellent conditions and tested at every stage of the production procedure. Always based on morality we lay great emphasis and care on the quality of our products.
Part of our activity is the existence of a certified Food Safety Management System which controls the hygiene, HACCP (En ISO 22000), and it is applied to the production procedure, from the collection of the raw materials to the final distribution of the products, guaranteeing the constant quality and the protection of the consumer from physical, chemical and microbiological hazards.
© 2022 Poursalidis Ath. & Sons S.A - "Siropiasta Sakis" - Tel: +30 23940 52495 - Usage Terms - Privacy Policy
This website is designed according to the
Web Content Accessibility Guidelines (WCAG 2.0 - Level AA)